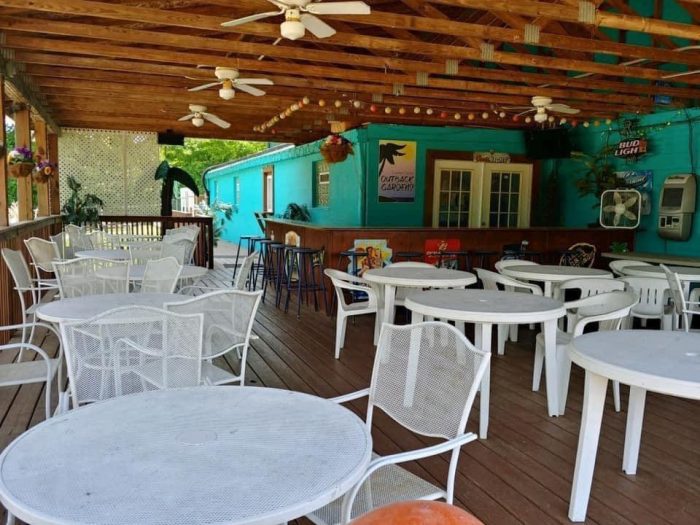 Southern Lanes Sports Center has accommodations for your next party or event! We're more than just a bar in Campbell County, KY—we're your destination for fun and excitement, no matter what the occasion is. We welcome you for birthdays, graduation parties, family reunions, fundraisers/benefits, club meetings and much more. Our indoor and outdoor spaces are sizeable and great for groups, giving you enough space to socialize and have fun!
Alongside our 16 bowling lanes, 5 pool tables, sand volleyball courts, darts, horseshoes, arcade room and sports bar in Campbell County, KY, we've got all of the amenities you could want from a party venue, including great food and drinks!
Outback Gardens
We have a back patio/garden area that's covered, allowing you to enjoy the fresh air outside without exposure to a light rain or harsh sunlight. It's the perfect setting for a celebration on a nice, warm day and spacious enough to accommodate dozens.
Book the patio for your next event and we'll make sure we have everything ready for your celebration!
Room Rentals
Looking for a spacious area to celebrate indoors? Our venue is equipped with several big rooms that can be rented out for your special event. Not only are you in close proximity to bowling lanes and our billiards room, there's also food and drink to be had at the bar!
Our spaces accommodate groups of all sizes and we'll be glad to work with you to determine exactly what you need to enjoy your time with us. Let us help you plan food and drink, as well as things like bowling lane reservations. We look forward to hosting you!
Reserve a Space Today
Got a special event coming up? Southern Lanes Sports Center is ready to host you and your crowd! Get in touch with us today at 859-635-2121 for more information about rental rates and terms for any of our available spaces.