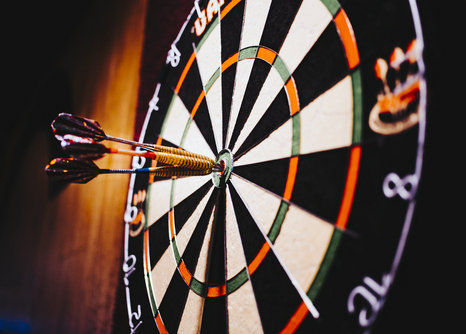 There's plenty to do at Southern Lanes Sports Center! We've got no shortage of fun and entertaining options, suitable for patrons of all ages. Our sports bar in Campbell County, KY aims to be your destination when you want to have a great time, in great company, doing the things that you enjoy.
Dart Leagues
What kind of bar in Campbell County, KY would we be without dart leagues?! Whether your game is 501 or cricket, we've got competitive leagues for you to join to test your accuracy and skill against other players just like yourself. We frequently play host to tournaments as well.
Arcade Game Room
Our arcade room is more than just a place to play a game of pool—it's also where you'll find air hockey and skee ball. Grab a friend and come play your favorite video game! Our equipment is well-maintained and well-positioned in a spacious area where you can enjoy yourself without feeling interrupted by others around you.
Horseshoes
Why spend time indoors when the weather is nice enough to be outside? We let you take the competition outdoors with a game of horseshoes! Our horseshoe pits are open to anyone and positioned off to the side to make sure no one interrupts your game. Test your accuracy and see if you can ring one today.
Outdoor Basketball Court
If you're a baller, we've got a court for you to shoot around on! Start a pickup game with friends or strangers, play a game of horse or just practice shooting by yourself. Our court is enjoyable to play on and well-maintained.
Come and enjoy all that Southern Lanes Sports Center has to offer you! Whether you're a dart player, enjoy arcade games or want to spend some time outdoors, we've got the games and activities to keep you entertained. Visit today or give us a call at 859-635-2121.