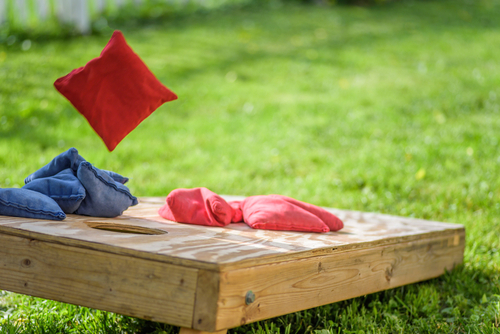 One of the most iconic summer games is cornhole and if you're looking for a place that takes competitive cornhole seriously, look no further than Southern Lanes Sports Center. Our sports bar in Campbell County, KY welcomes players of all ages, with leagues and tournaments always available. If you fancy yourself accurate in tossing a beanbag, step up to a board and make your challenge!
Recreational Play
When you're enjoying a drink or waiting for one of our pool tables to open up, grab a partner and step up to our cornhole boards. We have boards set up to regulation distances so you can play a few friendly (or competitive) games. Whether you've got a lofty toss or prefer to put a little spin on your bags, we welcome players of all ages and skill levels.
Leagues
If you think you're good enough to go head-to-head with other cornhole players, bring your skills to one of our cornhole leagues. Our leagues run throughout the year! We have leagues for men and women, as well as mixed leagues. Grab a friend and toss a couple of bags—first one to 21 wins! And, if you're good enough to take first place at the end of the season, you might just find yourself walking away with a nice prize.
Tournaments
Don't have time for league play every week, but still want to show off your cornhole skills? Enter one of our tournaments to see how you stack up against everyone else. If you can eliminate the competition one by one, you'll win bragging rights and a great prize (variable depending on number of entrees).
Toss a Bag or Two with Us
Looking for a place to play a little cornhole? Southern Lanes Sports Center welcomes you! Step up to our boards today and enjoy a game with friends or against the competition! Questions? Give us a call at 859-635-2121.